8 hardy PAX feeling crabby at the Bellmeade parking deck
Not sure if it was the trees in bloom, the birds chirping in the morning, or the bright shining light of the super worm equinox moon but whatever the reason, YHC was ready to make this one hurt. So after allowing the 2 minute window for stragglers as is customary at this AO, the PAX did a mosey loop up Commerce and back to the grassy lot for…
WAR
20 SSH

20x Imperial Walkers

15x/15x Sun Gods

20x Mountain Climbers

15x Merkins

15x Windmills
From there, we headed to the base of the Spiral of Doom for…
The Thang
Here's the rundown – at the top of the deck, PAX would perform 3-minute drills – 3 minutes of one exercise, AMRAP. At the end of the 3 minutes, we'd head back down and start again.
First round:

Indian run up Spiral (One PAX took the words out of my mouth when he proclaimed "THIS IS GONNA SUCK". Yes, yes it is.)
3 minute drill: Burpees
Run down the deck (YHC can report this is a much larger deck than the Church St deck, holy mileage Batman)

Second round:

Crabwalk up the stairs to the top #crowdpleaser
3 minute drill: Squats
Run down the Spiral
Third round: 

Backwards run up the Spiral #NoThisDidn'tLookGoodOnPaper
3 minute drill: Cindy Crawfords
Run down the Spiral
During the third round, the PAX encountered a rival fitness group on the other side of the parking deck. YHC thought for a minute we were about to have ourselves a turf war, ala Ron Burgundy and his news team vs Channel 9.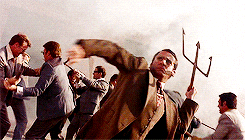 The Channel 9 boys let loose a couple of underwhelming chants to… I don't know, fire themselves up? but we decided they weren't worth doin' another bid over, so back to the shovel flag we went for…
6MOM:
We were coming in hot so we knocked out
and called it a morning.
COT:
No announcements
Jingles took us out praying for us to see the needs of those around us
Aye,
Paula Deen
Like This?