YHC's playlist shuffles between agony and despair
YHC has a thing for funk and soul music. So when Sly Stone's Birthday popped up on the list of "things that happened on March 15", we had a theme on our hands.
Due to the elements, PAX huddled up in the Church St parking garage as the minute hand ticked towards 5:30. At 5:29 1/2, YHC brought the crowd to order, confirmed no FNGs were in attendance, disclaimed the disclaimer, and off we went on a mosey up the parking deck for…
WAR:
15 SSH (more to come later)
15/15 Sun Gods
20 Imperial Walkers
15 Windmills
15 String Rippers
With that, we headed down a floor to slightly drier ground and planked up while YHC explained…
The Thang: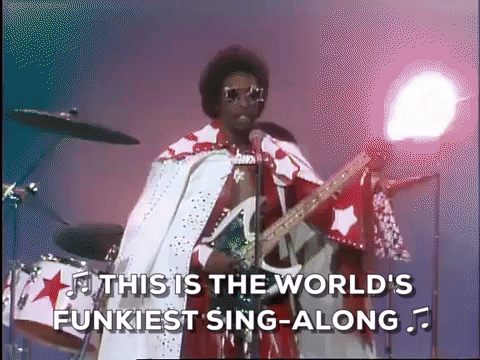 To celebrate Mr. Sly and his stone, the PAX grooved to some of his, if not funkiest, then certainly most repetitive, hits. The beatdown went like this:
I Want To Take You Higher (5:12)
SSH during the song
Star Jack when anyone says "Higher" (~53x)
---
Stand! (3:08)
Goblet Squats during the song
Burpee when anyone says "Stand" (23x)
---
Soul Clappin II (3:27)
Plank Jacks during the song
Merkin when anyone says "Clap" (21x)
YHC's playlist ran out of songs a little early, need to pony up for Spotify Premium. No matter though, the beatdown must go on. YHC put some more jams on and PAX partnered up for a little DORA 1-2-3 action:
100 merkins
200 squats
300 LBCs
Partner runs to end of parking deck floor and back
Most PAX were on LBCs when time was called. We moseyed to the bottom floor for:
6MOM:
With a full 6 minute time window, PAX were subjected to:
20x Low Slow Flutters
25x WWII sit ups
15x/15x Cindy Crawfords
20x Low Dolleys
10x Pickle Pushers (while Get Up (I Feel Like A Sex Machine) was playing, no less)
15x Dying Cockroach
25x American Hammers
The beatdown appeared to funk the PAX up properly as they seemed a little dazed and confused by the end.
COT:
Aye,
Paula Deen
Like This?